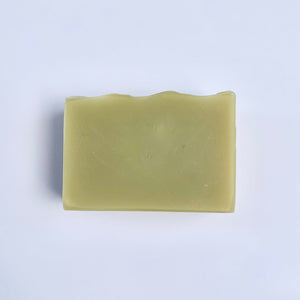 BOLD COAST | triple butter soap
******PREORDER****** this batch will shop after the sale ends
Made with purifying French green clay to gently cleanse and nourish your skin.  Enriched with organic shea butter to soften and protect. Scented only with pure essential oils for a refreshing, woodsy and herbaceous scent to bring the bold coast of Maine into your skincare routine.
100% natural, free of preservatives, synthetic fragrances, and artificial colorants
Suitable for all skin types, especially those with dry, flaky skin. 
SCENT PROFILE: bright, woodsy, herbaceous
Naturally scented with pure essential oils of fir, pine, bergamot, frankincense and rosemary. These oils are purifying and grounding. They help promote feelings of tranquility and aid in clearing the respiratory system. 
MADE WITH:
coconut oil, olive oil, organic shea butter, cocoa butter, non-gmo soy butter, organic castor oil, sodium hydroxide, distilled water, French green clay, essential oils of fir, pine, bergamot, frankincense and rosemary
DIMENSIONS:
Net Weight approx. 4.5 oz., 2.5"h x 3.5"w x 1.25"d
ABOUT ALABASTER SOAPS:
Each bar of Alabaster Soaps soap is handcrafted in small batches with 100% natural ingredients using the cold process method. Every oil or butter is selected for a specific purpose to nourish the skin, mind, body and soul. 
Each bar is sustainably hand packaged in Pennsylvania.
Woman owned small business created specifically for the purpose of giving back.